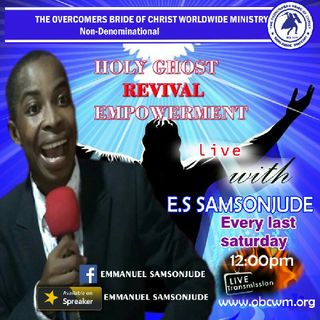 HOLYGHOST REVIVAL EMPOWERMENT #HOREEM#
3.128
Ascolti
3,1K
Ascolti
558
Download
558
Download
HOREEM (HOLYGHOST REVIVAL EMPOWERMENT ) IS A PROGRAM ESTABLISHED BY JESUS CHRIST FOR CHRISTIAN RENEWAL, RESTORATION , REVIVAL, AND POWER FROM ON HIGH FOR CHRISTIAN WALK.

THIS PROGRAM IS EVERY LAST SATURDAY OF THE MONTH, DON'T MISSED IT.

TIME : 10 AM IN THE MORNING (NIGERIA TIME )
LIVE TRANSMISSION COMES UP HERE BY 12PM NIGERIA TIME.
VENUE : OVERCOMERS CAMP GROUND, NEAR GAVOLOR SCHOOL, AGEMUWO BUS STOP, BADAGRY, LAGOS STATE, NIGERIA.